My Isolation colour photos were taken over 30 consecutive days and are about me and my dog Tolly working our way through the Rainbow during lockdown with a few special additions…
My lovely friend Jacq sent me a photo by Rowena Meadows of her family all dressed in the same variations of one colour (Green) and said: "Reckon you guys could give this family a run for their money on this"
Well I sent back: "OMG I absolutely love this" and promptly put it to my family…who very quickly all refused.
I wasn't going to be beaten so i turned to Tolly (our dog) and said "Well it's you and me then Tolly" she didn't say anything, so I assumed that was a yes from her.
This was sent through on a Saturday and I had a plan of action for Monday.
That weekend the colour collecting began on red and on the 27th April 2020 around 12.17pm my long suffering daughter Nell was called in to take the photo with my phone and hold the dog biscuit bone .(I say long suffering as I'm quite particular where I want the picture taken from and I do practice shots without me or Tolly in to try to get everything of that colour in the shot…)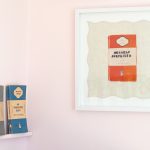 On day two Orange it poured with rain so I took it inside to my kitchen.
Throughout these photos I have tried to put pieces of my artworks within the picture, but on day two I failed as I couldn't find any of my embroidered orange book covers, but most other days I have succeeded.
It then became quite fun working out different areas of our home to set the photographs up in: kitchen, patio, drive, shroom, (inside + out) bathroom, garden, hall, shower, car boot, washing line, trampoline, shed, and any other spaces I could find for variety.
I sent some of the first days to the photographer in Australia Rowena who inspired the Rainbow photos and got a lovely voice note back. The jist of which was:
"Wow wow..the dog is loving it… there is so much imagination and joy…and glad you didn't worry about your family not joining in..Stuff them!"
Absolutely loved getting this.